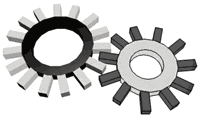 Professional Web Design Services
I provide extremely competitive pricing for all projects, great and small.
Please send me a note if you have any queries about services listed here. As a bespoke web developer, I'm naturally flexible about the sort of work I can provide.
Website design and development, based in London
images — animations, logos, navigation elements, and original or sourced photography
proofreading and writing text content
navigation and User Interfaces
database-driven dynamic websites
e-commerce applications (e.g. shopping cart, PayPal / WorldPay)
integration with common CMSs or plugins like Wordpress, MediaWiki, or PHPBB
blogs, forums, and online chat
portfolio or personal websites
user systems, secure login systems
custom CMS work, including fixing a system someone else made for you
specific bespoke applications at your request, e.g. portfolios, project pages, databases of real estate or product listings, and so on
Domain name registration
I can consult with you about a suitable and profitable domain name, help you find out which names are available, make suggestions and brainstorm with you, and then register the domain name for your website. I also have experience successfully negotiating the purchase of existing domain names on Sedo.com, the top domain auction website.
Content Management System
I also offer the
Authos content management system
so that you can edit your own website, changing styles as well as content. In addition, as outlined above, I can set up and configure Wordpress or other CMSs to meet your needs.
Long-term maintenance
I can maintain your website and content as well as do the initial development.
Hosting
It's important to find the best hosting experience available. That's why I maintain a relationship with high-quality custom hosting providers in both the UK and USA. This relationship also means that I can offer you exclusive discounted hosting services with these companies. I can manage all of your hosting needs via these companies on your behalf.
Search Engine Optimisation (SEO)
I'm versed in SEO techniques, and will perform an SEO assessment of your website in addition to providing you with a concise and helpful document explaining how to manage your website's search presence over time.